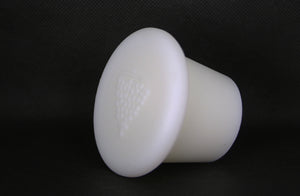 2" Grab Ring Solid White
Solid White bung with Grab Ring.  This is a best seller and is widely used by vintners and craft brewers with barrel aging programs.
Introducing our high-quality Silicone Standard Barrel Bungs, designed to provide a secure and tight seal for your 60/53-gallon (225/200 L) barrels. Crafted from premium food grade silicone material, these barrel bungs are built to withstand the rigors of long-term use.
Our Silicone Standard Barrel Bungs feature a solid design, which ensures that they will fit snugly into the opening of your barrel, keeping air and contaminants out, and helping to preserve the integrity and quality of your barrel's contents. The bungs are also easy to insert and remove, thanks to their durable construction and flexible design.
These bungs are suitable for use in a wide range of applications, including wine making, beer brewing, and distilling. They are also suitable for use in other applications where a tight seal is needed to preserve the contents of a container.
Overall, our Silicone Standard Barrel Bungs are an excellent choice for anyone looking for a high-quality, reliable, and long-lasting solution for sealing their barrels.

Tall Traditional Bung - Use after fermentation & filtration
Easy to grab, tighten or remove, Universal Size
| | | |
| --- | --- | --- |
|  TOP              |  BOTTOM       |  HEIGHT       |
|  55.5 mm |  44.4 mm |  38.1 mm |
|  2 3/16" |  1 3/4" |  1 1/2" |