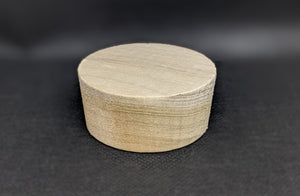 2" White Oak Standard Barrel Bung
The White Oak Bung is a must-have tool for any whiskey or wine production. Crafted from high-quality American white oak, this bung is the perfect fit for any standard-sized barrel or cask.
The natural properties of white oak make it an ideal choice for barrel aging, as it imparts complex flavors and aromas to the liquid. The tight grain of the wood ensures a slow and even release of flavor, resulting in a smoother, more balanced finished product.
With its precision craftsmanship and durable construction, the White Oak Bung is designed to withstand years of use. The tapered shape ensures a secure fit, while the smooth surface makes it easy to remove for sampling or topping off your barrel.
Each order is a 10 pack of bungs.